Where do Australians look for health info?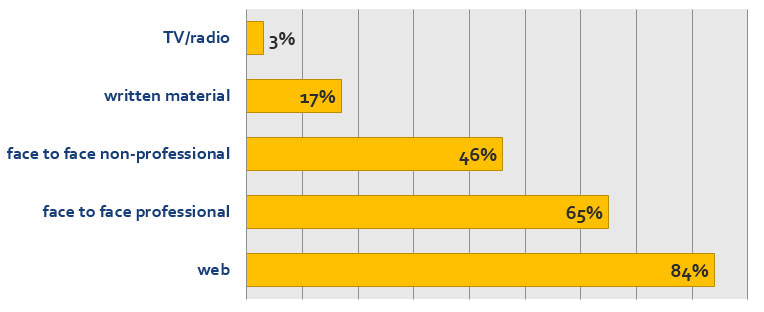 Preliminary data from survey done (5000 australians) for the National Health Call Centre Network, 2012
Total users in Australia (April 2013)
It is difficult to come up with solid statistics for social media numbers, however the following figures from www.socialmedianews.com.au give us a rough guide.  The population of Australia on 30/4/13 was approximately 23,007,086, which might help you put these figures into perspective.
Facebook – 11,489,380 Australian users/accounts
YouTube – 11,000,000 UAVs
Blogspot – 3,000,000
WordPress.com – 2,900,000
Tumblr – 2,800,000
LinkedIn – 2,700,000
Twitter – 2,167,849 active Australian users
Instagram – 1,083,924 Active Australian users
Flickr – 860,000
TripAdvisor – 830,000
Pinterest – 630,000
MySpace – 300,000
Yelp – 220,000
Reddit – 180,000
Google Plus – approx.. 100,000
StumbleUpon – 95,000
Foursquare – 51,000
Digg – 33,000
Delicitous – 31,000
Social Media Statistics Australia, April 2013: courtesy of http://www.socialmedianews.com.au/social-media-statistics-australia-april-2013/